Dental Crowns and Dental Bridges in Kennesaw, GA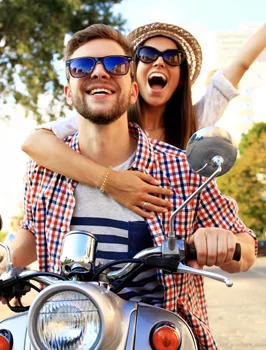 Missing or broken teeth can make you feel self-conscious about your appearance. It can also put a strain on everyday activities, like eating your favorite foods or speaking normally.
Dental damage doesn't have to deter you from showing off a beautiful and functional smile. At Russell G. Anderson Jr. DMD, PC, we offer porcelain dental crowns and dental bridges in Kennesaw, GA. Dr. Anderson, DMD, and his expert team will fit your dental crown or bridge to match your teeth and mouth structure, giving you an impeccable smile.
What Are Dental Bridges?
Dental bridges are permanent appliances that replace a section of missing teeth. Dr. Anderson, DMD, provides custom-made dental bridges that are barely noticeable to patients from Kennesaw, Acworth and the neighboring communities. A dental bridge will blend in seamlessly with your natural smile. Your custom dental bridge will:
Restore the natural contour of your teeth
Promote a better bite relationship
Make it easier to chew and speak
Give you an attractive and complete smile
Dental bridges are bonded to the existing teeth, making them stay securely in place. We may use porcelain, gold alloys, or a combination to design your dental bridge.
What Are Dental Crowns?
Dental crowns are tooth-shaped caps made up of bone-colored materials, like porcelain, giving your smile a natural-looking appearance. Tooth crowns are placed over the visible portion of the tooth to restore its appearance and protect it from damage.
Porcelain crowns restore a tooth's form and function after decay, trauma, or root canal therapy. Dental crowns also fortify the bite force and strength of the tooth.
Taking Care of Crowns and Bridges in Kennesaw, GA
When you take measures to properly care for your tooth crown or dental bridge, they can last for eight years or longer! It is important to:
Floss in the area of the tooth crown to avoid collection of debris around the dental appliance
Avoid jaw clenching and grinding
Avoid eating brittle foods such as ice or hard candy
Brush your teeth two to three times daily and floss daily
See your general dentist for regular professional teeth cleanings
Missing or Damaged Teeth? Schedule a Consultation for Dental Crowns or Bridges in Kennesaw!
You can have a dazzling smile once again with these restorative dentistry procedures. To learn more or to schedule a consultation, call, text, or email our Kennesaw dentist office and schedule your visit today. We happily provide dental crowns and bridges to patients from Kennesaw, Acworth and the surrounding areas.
Related Dental Services